General News
Pentati youth invited by the under 15's Greek national team.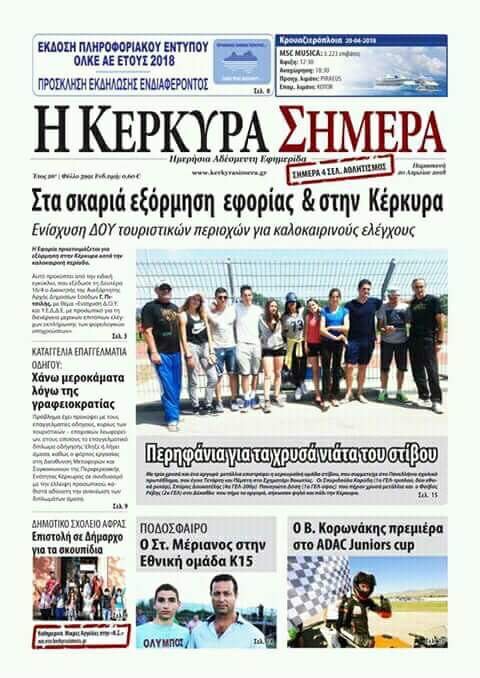 Congratulations to local boy Stamatis Merianos who has been invited by the Greek national football team for under 15's. Stamatis plays defensive midfielder for AOK PAE Kerkyra. We wish him great success in his football career.
http://aokkerkyra.gr/o-stamatis-merianos-tis-k15-stis-proponiseis-tis-ethnikis-k15/
The first recorded wedding certificate in Pentati dated 1882
ΠΕΝΤΑΤΙ 6 ΙΟΥΛΙΟΥ 1882. Η ΠΡΩΤΗ ΛΗΞΙΑΡΧΙΚΗ ΠΡΑΞΗ ΓΑΜΟΥ ΠΟΥ ΓΙΝΕΤΑΙ ΣΤΟ ΠΕΝΤΑΤΙ. ΝΑΟΣ ΤΗΣ ΥΠΕΡΑΓΙΑΣ ΘΕΟΤΟΚΟΥ ΟΔΗΓΗΤΡΙΑΣ.
ΓΑΜΠΡΟΣ Ο ΣΠΥΡΙΔΩΝ ΡΑΡΗΣ του ΑΝΔΡΕΑ ετών 17 γεωργός
ΝΥΦΗ η ΝΙΚΟΛΕΤΑ ΜΕΡΙΑΝΟΥ του ΙΩΑΝΝΗ ετών 16.
ΜΑΡΤΥΡΕΣ ΟΙ : ΓΡΗΓΟΡΙΟΣ ΑΛΑΜΑΝΟΣ του ΔΗΜΗΤΡΙΟΥ ετών 48 - Οινοπώλης απο Συναράδες, και ο ΣΠΥΡΙΔΩΝ ΓΡΑΜΜΕΝΟΣ του ΙΩΑΝΝΗ 23 ετών από Συναράδες ΑΛΛΑ ΚΑΤΟΙΚΟΣ ΤΣΟΥ ΚΟΡΦΟΥΣ - ΦΟΙΤΗΤΗΣ παρακαλώ στο Επάγγελμα. Ιερέας του μυστηρίου ο Σπυρίδων Αλαμάνος. Το ενδιαφέρον στην Ληξιαρχική αυτή πράξη που εκτός απο το ότι μεχρι τα σημερινά στοιχεία αποτελεί την ΠΡΩΤΗ ληξ. πράξη του νεότερου χωριού της περιοχής μας ( ΠΕΝΤΑΤΙ ) είναι και το γεγονός ότι Και Νεόνυμφοι και Μάρτυρες ήξεραν γράμματα. Πράγμα σπάνιο γιά την εποχή.
PENTATI 6 JULY 1882. THE FIRST STATEMENTS OF WEDDING AT PENTATI. THE TEMPLE OF THE CITY OF THEOTOKOS ODIGITRI.
GROOM the SPYRIDON RARIS of ANDREA years 17 farmer.
BRIDE Nikoleta MERIANOY John years 16.
WITNESSES: GRIGORIOS ALAMANOS of years 48-Oinopwlis from Synarades, and SPYRIDON GRAMMENOS John 23 years from OTHER RESIDENT Synarades TSU KORFOYS-FOITITIS please in the Profession. Priest of the sacrament Spiridon Alamanos. The interest in the vestry this Act except that until today's data it is the FIRST TIME in the practice of the modern village of our region (PENTATI) and the fact that Newlyweds and Witnesses knew letters. A rare thing for the season.