Pentati Pirate Muggin' Oggin Molley begins his voyage
Parent Category: The Pentati Village Project
Category: Geocaching
Published: Sunday, 14 August 2016 00:00
Written by Claire Haas
The first of our pirate geocache trackables Pirate Muggin' Oggin Molley left Pentati with Wetterberichtskugel today. Where will they take him? Which treasures will he discover on his travels?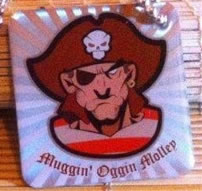 Use this link https://coord.info/TB4TXZK to follow his footsteps around the world.
Pentati Pirate Gunnin' Bill Blaster will be the next to leave, eager for adventures of his own.