Angela's Traditional Taverna in Pentati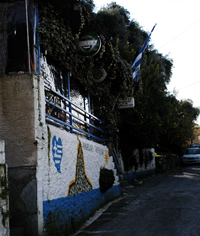 A traditional Greek taverna serving delicious home-made food and local wine. Roof garden with a beautiful view.
Open daily all year round.
Contact Makis Merianos on:
Tel: 0030 26610 53116.

Mentioned by Nigel Richardson in the Telegraph 15th June 2012:
Amid all the drama and uncertainty of economic meltdown, there remains something about Greece at its inimitable best that money can't buy, and that the money markets are in danger of destroying. It was summed up for me by a taverna owner, Makis Merianos, who runs the Café Angela in a hill village outside Aghios Gordios. He faces a bleak season but, after feeding me on roasted vegetables and pork, insisted on giving me two oranges and a small bottle of ouzo as I left. "For later," he said. Maybe he knows something I don't.
Read the full article here: http://www.telegraph.co.uk/travel/destinations/europe/greece/9333349/Corfu-and-Paxos-Greece-still-gets-my-vote.html