Geocaching
Placing geocaches in and around the village will put Pentati on the worldwide treasure hunt map and encourage people to visit. Our geocaches will be listed at the bottom of this page as & when they are launched.
What is Geocaching?
This is probably best explained on www.geocaching.com but in short it is a global treasure hunt with 2,640,401 active Geocaches and over 6 million Geocache hunters (members) worldwide. Geocaching is a real-world, outdoor treasure hunting game using GPS-enabled devices. Participants navigate to a specific set of GPS coordinates and then attempt to find the Geocache (container) hidden at that location. The container can be of any size and would normally contain a guestbook for people to sign, some also contain an item for exchange. Once found the Geocache hunter logs this on the Geocaching website.
There are several different types of Geocache which can be seen here: https://www.geocaching.com/about/cache_types.aspx.
Check out GPS and Geocaching 101; link kindly sent to us by Blake who has just started working towards earning his Geocaching merit badge. Blake found our web page on his Geocache quest and in true Boy Scout fashion thought it was a useful resource to share.
7th March 2017
Thank you Blake! :-)
Pentati recieves best Geocaching Resources Award!!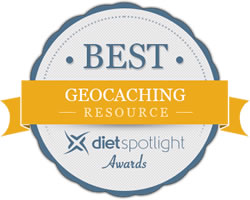 We are delighted to have been awarded one the best Geocaching Resources by Paula Canessa the Director of Research at DietSpotlight.com.
Pentati Pirate Muggin' Oggin Molley begins his voyage
The first of our pirate geocache trackables Pirate Muggin' Oggin Molley left Pentati with Wetterberichtskugel today. Where will they take him? Which treasures will he discover on his travels?
Another geocache trackable travel bug has arrived in Pentati. Starting its journey in Denmark on 19th August 2012 this TB has traveled through Italy, Germany, Switzerland, United Arab Emirates, Oman, Bahrain, Spain, Luxembourg and Croatia arriving in Pentati on 6th June 2016.
Kit Cat Penny Quack has arrived in Pentati!
The 2nd geocache trackable travel bug to arrive in Pentati. Starting life in Pennsylvania USA on 26th September 2010 Kit Cat Penny Quack has travelled through USA, Canada, Italy, Iceland, Switzerland, Czech Republic, Poland, Germany, Denmark & Netherlands before arriving on Corfu on 7th October 2015. Kit Cat Penny Quack arrived in Pentati Harbour on the 12th October 2015.