Pentati Online Souvenir Shop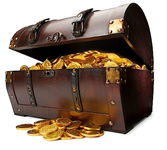 Well done, you have just discovered the Pentati Pirate Treasure Chest!
Souvenirs from Pentati include locally hand painted pirate themed stones & traditional old Greek roof tiles. You can also buy the Pirate Trail Story audio version as a downloadable product.
All profits from the treasure will go to the Pentati Village Project for repairs needed throughout the village.
---